Food Truck Hood Cleaning
Cleaning the hood of a food truck is a task that requires specialized knowledge and expertise. It needs to be done to ensure the safety and quality of the food served by the truck. It's not just about basic cleaning; the whole hood needs to be properly ventilated to prevent grease fires, and all cooking surfaces must be thoroughly sanitized between uses. This should include the filters, exhaust fans, and other components and scrubbing all surfaces clean.
What makes this task unique is that it must be completed regularly, especially if food items are cooked at high temperatures. Each time the griddle or pans are used, they must be completely cleaned before they can be used again. The hood itself should also be checked and cleaned often to remain efficient and safe for use. The process takes time, skill, and patience, but it is essential for ensuring a safe working environment for the people serving the food.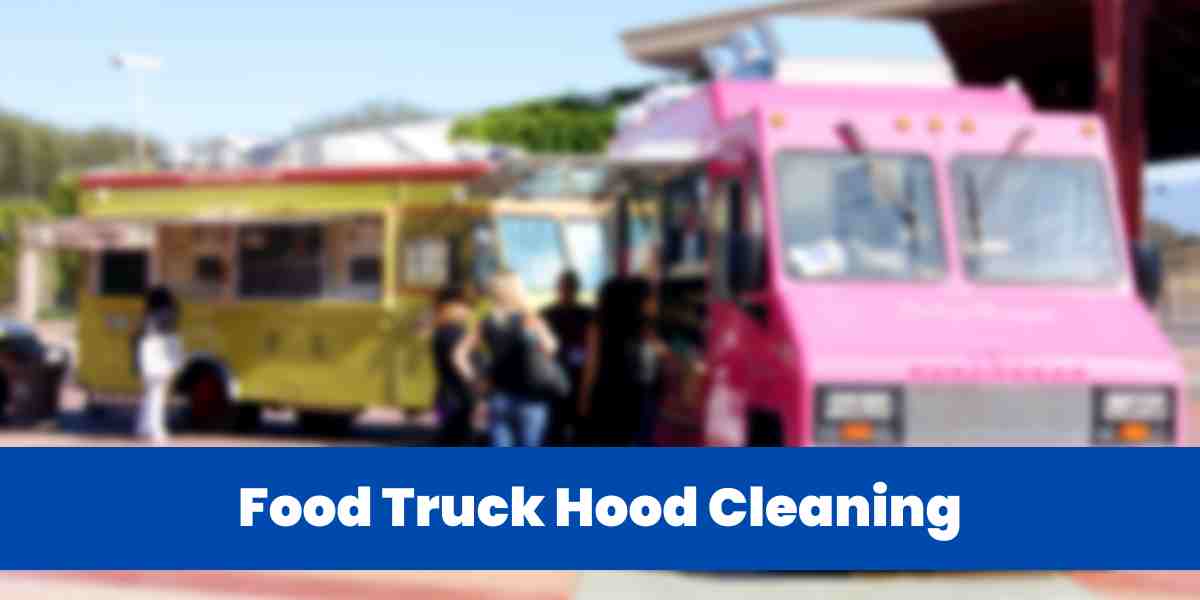 Kingston Hood Cleaning
Request a Estimate
Get your free written hood cleaning or kitchen
exhaust cleaning estimate today.
Tap to request estimate
Cleaning Food Truck Exhaust Hoods in Kingston
If you're looking for a company in Kingston, Ontario, to clean the hood of a food truck, go no further than Kingston Hood Cleaning. We have an intimate knowledge of the specific challenges faced by those who own food trucks and can tailor our services to their requirements. Our staff has worked with every commercial kitchen hood and appliance, so they know how to clean them thoroughly and guarantee their safety.
In addition, we utilize only top-shelf cleaning supplies to keep your hood free of oil and other impurities. To further guarantee that no one is harmed during our job, we have provided our professionals with rigorous training in safety protocols. In addition, you may choose the most convenient time to have us clean your hood. Thanks to our quick turnaround times, you can trust that your hood will be cleaned and ready to go in a flash.
Be sure to call us for all your food truck cleaning needs, including the exhaust system, kitchen equipment, and filters.
Kingston Food Truck Exhaust Hood
Cleaning the exhaust hood of a food truck might be especially tough owing to its distinctive shape. As the name implies, exhaust hoods are installed in commercial kitchens to vent out the resulting smoke, steam, and heat. As a result, they are frequently tucked away in inconvenient places that are difficult to access for cleaning. To get rid of the oil, filth, and other impurities from the underside of the hood, you may need to use specialized cleaning products and methods.
Exhaust hoods also have difficulty since they must be regularly maintained and inspected to ensure their safety. If grease accumulation inside an exhaust hood isn't treated, it might raise the chance of a fire, resulting in serious injury or even death. As such, food truck owners must have their exhaust hoods cleaned and maintained periodically by competent personnel to ensure safety and efficiency.
Kingston Hood Cleaning, however, can handle anything thrown our way. Get in touch with us, and we'll gladly demonstrate.
Food Truck Cleaning Guide in Kingston
Food truck hood cleaning is done by inspecting the hood to identify areas that need extra attention. Once these areas are identified, the technician will use special commercial-grade cleaning products and tools to remove grease, grime and other contaminants from the interior surfaces. After the cleaning is complete, they will inspect the hood again to ensure it is properly cleaned before being put back in service.
In addition to using special cleaning products and techniques, technicians also perform various safety checks when servicing an exhaust hood. This includes checking for possible fire risks such as built-up grease and ensuring proper ventilation. The technician will also check for any signs of wear or damage that could compromise the integrity of the hood or cause further problems if not addressed promptly. After all safety checks and cleaning processes have been completed, the hood is tested for proper operation and returned to service.
Food Truck Maintenance Exhaust Fans and Hoods
If you run a food truck and want to keep the hood and ventilation fans in good condition, Kingston Hood Cleaning is your best bet. To get the work done well, we only use the best available supplies and equipment and employ environmentally friendly yet efficient cleaning strategies. Our personnel have been trained and are authorized to clean these systems. Each expert is well-versed in the relevant safety protocols and laws, guaranteeing their work is of the highest quality.
Depending on your preferences, Kingston Hood Cleaning may provide one-time cleanings at reasonable costs or set up a scheduled maintenance schedule. When considering a company to clean the hood of their food truck, we believe you should use us for all the reasons listed above. Call us to get a no-obligation and a completely free quotation.
Expert Hood Cleaning for Food Trucks
Hood cleaning for food trucks is a chore best left to the pros. Professional hood cleaners have been educated in and awarded certification in the most efficient cleaning procedures. They have access to industrial-strength chemical compounds intended to safely and effectively remove built-up oil and dirt and know just how to clean your hood.
Professional hood cleaning also assures conformity with all industry rules, protecting businesses from penalties and other problems with local health agencies. Expert hood cleaners are also aware of the various exhaust system configurations and the specific ventilation needs of each, allowing you to be certain that your kitchen will function at its best. Finally, having an expert clean your hood rather than doing it yourself can save you time and money by reducing the likelihood of missing any hidden parts or making expensive mistakes.
Gourmet Trucks in Kingston
While delegating the task of hood cleaning to gourmet truck staff is an option, it's not the best. For various reasons, professional hood cleaners are better equipped and more experienced than staff. First and foremost, professional hood cleaners are trained and certified in proper cleaning techniques and use high-grade chemicals specifically designed to tackle tough grease and grime build-up. This ensures that the job is done thoroughly, properly, and safely.
Second, expert hood cleaners know how to work with various ventilation setups to ensure optimal kitchen performance. They understand all of the regulations related to these systems, so there is less chance of running into trouble with local health departments or other authorities. Lastly, professional hood cleaning is far more efficient than having staff take on this task, as they may make costly mistakes or overlook certain parts due to lack of experience.
Hire Kingston Hood Cleaning today to see the difference. You'll never delegate the hood cleaning job to anyone else right after!
Pop-up Restaurant Food Trucks in Kingston
It might be challenging to thoroughly clean the hood of a pop-up restaurant because to its size and limited access, making it a prime target for foodborne illness. This may rapidly lead to a buildup of oil and filth, which in turn can reduce the efficiency of the kitchen's ventilation system and ultimately affect its operation. Cleaning the hood incorrectly can also discharge harmful odours and poisonous particles into the air, raising the risk of health problems for personnel and consumers.
Furthermore, filth and debris accumulation on the hood might decrease its capacity to absorb oil particles while cooking adequately. Without prompt attention, this might cause huge volumes of oil vapour to be vented into the atmosphere, which poses fire and safety risks. These are just some of the reasons why it's crucial to take enough precautions while running a pop-up restaurant to ensure the safety of its employees and customers from any potential dangers caused by faulty machinery.
Food Truck Cantines in Kingston
When it comes to cleaning hoods for mobile kitchens like food truck cantines, Kingston Hood Cleaning is the best in the business. Our certified professionals are dedicated to providing reliable services that meet or exceed all state and local fire and safety codes. First, we do a complete system check, then we clean everything down to the smallest detail, from the walls to the vents to the ducts and everything in between.
After that, we give the area a thorough deep cleaning with a strong degreaser and a hot water wash to remove years of accumulated filth. And then, before we put any protective sealants or lubricants on, we use a specialized ventilation brush to sweep away any last bits of dust and dirt. After we're done, your kitchen will sparkle and run like new, so you can rest easy, knowing that your customers and employees are safe.
Professional Kitchen Exhaust Cleaning Services
A commercial kitchen exhaust system cleaning package typically consists of several tasks that must be completed for optimal performance. These include:
– Inspecting and replacing components like filters, ducts and fans.
– Scraping off heavy grease build-up through manual scrubbing and chemical treatments.
– Steam-cleaning to remove stubborn dirt and grime from hard-to-reach surfaces.
– Cleaning the hood, fan blades and other exhaust system components with special degreasers.
– Disinfecting all surfaces to prevent the spread of bacteria, mould and spores.
– Applying protective sealants and lubricants to extend the life of the system.
By combining these various tasks into a comprehensive package, commercial kitchen exhaust systems can remain efficient, safe and compliant with local regulations for many years.
Cleaning Food Truck Exhaust Hoods in Kingston Ontario
Although the principles of cleaning an exhaust hood for a food truck and a regular kitchen are similar, there are several key differences. For example, due to their smaller size and different layout, it is often more challenging to clean a food truck's exhaust hood than a regular kitchen. In addition, since most food trucks have limited access to service technicians, special attention must be paid to ensure tight spaces can be safely navigated during the cleaning process.
Furthermore, since food trucks are typically located in busy areas with high levels of activity, additional measures may be necessary to mitigate any potential risks associated with this type of environment. Finally, due to their constant movement around the city or region, food truck operators must ensure that any equipment and services used on their vehicles meet local fire and safety regulations – something which may not always be possible in standard kitchens.
Hood Cleaning Areas Served around Ontario
We service commercial kitchen hood exhaust systems in Ontario. We have qualified experts throughout the Greater Toronto Area, Durham Region, Niagara Region, and Ottawa Area to ensure that exhaust hoods are maintained according to local health and safety laws.
Our crew is well-equipped to handle any commercial kitchen installation, from a single-unit hood to an expansive facility with many floors. Because of the high standard we set for ourselves, and you can rest easy knowing that your facility will always be clean, safe, and up to code standards thanks to the innovative products and equipment we employ.
Regardless of where you are in Ontario, we will go to you and provide you with the same high-quality service at a price that won't break the bank.
Exhaust Hood Cleaning Service in Ontario
Kingston Hood Cleaning is an Ontario-based company that offers a thorough exhaust hood cleaning service. To ensure your building is secure and up to code with health and safety standards, we use only the most qualified professionals who have earned relevant certifications.
The first step of our thorough cleaning process is clearing the exhaust hood of oil or other debris. Next, we comprehensively clean all interior surfaces, with special care paid to nooks, crannies, and other similarly inaccessible spots. Once we're done cleaning, our experts will check every part of the exhaust system for damage or other problems.
Ultimately, we use a sanitizing solution to eliminate any remaining bacteria and germs, making your kitchen exhaust system as effective as possible. Thanks to our knowledge and hard work, you can trust that your building will always be a healthy and safe environment.
Frequently Asked Questions about Food Truck Exhaust Hood Cleaning in Kingston
Kingston, ON residents, frequently ask the following questions concerning hood cleaning.
Where can I get information on cleaning the hoods of food trucks in Kingston?
Exhaust hoods on food trucks should be cleaned often to prevent any health hazards to consumers or personnel. Exhaust hoods in Kingston's commercial kitchens must be examined at least once every 60 days to ensure they comply with local health and safety requirements. Always use a certified technician for this job, as they will possess the knowledge and experience to guarantee your premises are up to code.
How does one go about cleaning an exhaust hood?
The standard procedure for cleaning an exhaust hood includes removing all oil residue and debris from the inside surfaces of the system, thoroughly cleaning each component, examining for any potential faults or concerns, and then using a sanitizing solution to eliminate bacteria and germs. Industry standards and the rules of the local health authority must be followed throughout the process.
How frequently do I need to clean the exhaust hood on my food truck?
To comply with local health regulations, exhaust hoods should be cleaned at least once every 60 days. Regular system inspections in-between cleanings are also recommended to catch any flaws early on before they create a safety risk or disrupt normal operations.
Fire Safety Requirements for Food Truck Exhaust Fans?
Exhaust fans are required for all food trucks in Kingston to meet municipal fire safety laws. An expert should be consulted to design and install exhaust fans to guarantee that the machinery is up to code. If a fire or malfunction occurs, the fan should include an emergency shutdown switch.
It is also important to routinely check the exhaust system to ensure it is clear of any obstructions and operating as it should. Ensure your kitchen staff keeps the area surrounding the fan clean regularly to prevent grease buildup, which poses a fire hazard if left unchecked. Get expert assistance by calling Kingston Hood Cleaning. Allow us to be of assistance.
In Ontario, we have a commercial kitchen cleaning staff that is professional and well-trained to meet all of your cleaning requirements
Professional, well-trained, and committed to fulfilling your kitchen cleaning needs, our team in Ontario takes great pride in providing you with the best commercial kitchen cleaning services available. Our staff is well-versed in maintaining a clean and sanitary facility in accordance with state and federal requirements for food service establishments, including but not limited to exhaust hood inspections, routine maintenance, and trash removal.
You can trust us to provide excellent work for your company because of our dedication to quality and our focus on the needs of our customers. You shouldn't hesitate to give us a call right now.
Cleaning Kitchen Hoods in Kingston
Cleaning commercial kitchen hoods frequently are required to ensure health and fire safety. This includes clearing away grease traces from exposed areas and checking for obstructions in the ventilation system's fan, ductwork, and filters. All of the exhaust system's parts should be examined for good operation, and the outside of the hood should be cleaned using the necessary cleansers. Additionally, the fire suppression system should be inspected often to guarantee its readiness in an emergency.
In terms of hood cleaning, Kingston Hood Cleaning provides a full service. Get in touch with us immediately if you're interested in collaborating with the industry's top professionals.
Commercial Kitchen Cleaning for Ontario Restaurants
Cleaning the kitchen thoroughly rather than just the countertops may indicate that the atmosphere has not been adequately maintained. This might indicate that grease and filth have been allowed to accumulate for a long period, increasing the risk to people's health. It's also possible that not everything is operating as it should, such as ventilation systems, filters, and fire alarms.
A thorough cleaning of the kitchen is essential for the health and safety of those who use it, both customers and staff. Cleaning greasy and dirty buildup off surfaces, checking for blockages and wear in the exhaust system, and ensuring the fire suppression system is in good working condition are all part of this routine maintenance. Scheduled thorough cleanings of commercial kitchens are suggested for several reasons, including keeping the kitchen free of germs and staying in accordance with local health standards and regulations.
For commercial cleaning with no compromises, count on Kingston Hood Cleaning!
Commercial Kitchen Fire Protection in Ontario
In terms of fire safety in commercial kitchens, several rules and guidelines must be followed in Ontario. For example, a fire suppression system should be installed, and all cooks should undergo fire safety training. A few examples are clothing that keeps you safe in a fire, knowing where the emergency shutoffs are located, and installing a system to remove toxic fumes. Fire safety measures like smoke detectors that are installed and routinely inspected are also recommended.
Further, grease accumulation on surfaces or ducting can become dangerous; therefore, routine thorough cleanings are necessary. The safety of diners, workers, and proprietors can improve if commercial kitchens adhere to these standards.
Ontario Commercial Kitchen Exhaust Cleaning
Cleaning the exhaust hood in a kitchen is vital to keeping that kitchen clean and safe for cooking and eating. Maintaining a clean commercial kitchen space decreases the likelihood of a fire, gets rids of oil that might attract pests, and enhances the quality of air within.
Refusing to clean your exhaust system regularly puts everyone in danger. Fires may spread rapidly and make evacuating harder if grease has built up in ventilation systems, ducts, and filters. In addition, poor air quality is only one more threat that can result from grease buildup. Kitchen exhaust cleanings should be performed by professionals regularly to protect employees and patrons from harm and to head off issues before they ever start.
Rooftop Grease Containment in Ontario Canada
Grease collection and storage systems for commercial kitchens are often installed on the roof. These systems have several parts, such as grease traps, gutters, filters, and overflow containers. Cooking oils may catch fire if they get into the water supply, but grease traps block them before they can.
If there is a buildup of liquid in the traps, an overflow receptacle will catch it and carry it away from the structure. Capturing solid particles before they may enter other sections of the system, filters assist to limit the quantity of particulate matter that accumulates in the system. In addition, gutters are set up to divert water that may include debris or grease away from the building's entrances and exits.
Exhaust Fan Hinges and Installation ON
Installing an exhaust fan hinge kit is a crucial step for any restaurant in Kingston, Ontario to ensure their kitchen exhaust system's safe and efficient operation. The kit comes with all the parts necessary for proper installation, allowing restaurants to quickly and easily connect their existing ventilation system to the fan. Each part is securely connected and properly sealed to reduce potential fire hazards caused by leaking cooking oils or grease vapours. In addition, the kit ensures that exhaust fans can move around freely while remaining secure against sagging or overheating.
Proper installation of an exhaust fan hinge kit is essential for restaurants in Kingston, Ontario, due to the humid climate they often experience. Without a hinge kit, exhaust fans may overheat faster due to the high temperature and humidity levels, resulting in costly repairs or replacements. Investing in this product helps keep your kitchen's ventilation system running smoothly, reduces the risk of fire hazards, and helps maintain a healthy working environment for staff and customers.
Quality commercial cleaning services
Commercial kitchen cleaning service is a priority for businesses to ensure the safety of their customers and employees. Food-borne illnesses can occur when grease and grime are left uncleaned in kitchens, so restaurant owners must keep them clean regularly.
If baked-on grease and grime persist in commercial kitchens, they can create an ideal environment for bacterial growth. This is especially dangerous in food preparation areas where bacteria can be spread easily by contact with surfaces or airborne particles. Uncleaned kitchen equipment can also be a source of contamination if not maintained properly, as dirt and grime can collect on the surface, making it difficult to sanitize correctly. Grease build-up is also a major fire hazard due to its flammable nature; the longer grease goes uncleaned, the more likely it becomes that a fire could break out in the kitchen due to the accumulated buildup of flammable materials. Therefore, investing in professional kitchen cleaning services is essential to preventing health risks posed by uncleaned kitchens and potential fires caused by grease buildup.
The importance of kitchen hoods and the need to have them clean
Commercial kitchens can't function without kitchen hoods, crucial for fire prevention and optimal cooking conditions. They prevent your kitchen from becoming contaminated by any smoke or grease vapours that may be released while cooking. Vent hoods in commercial kitchens are installed to remove the noxious fumes and grease vapours that would otherwise spread throughout the establishment and endanger the health of the patrons and employees. Therefore, restaurants should regularly clean their kitchen hoods to preserve their efficiency.
If you want to be confident that all the oil and dirt have been properly cleaned from your kitchen hood, hiring a professional cleaning service is your best bet. Due to the potential fire threats posed by grease buildup, all commercial kitchens must regularly invest in expert kitchen hood cleaning services. In addition to ensuring the smooth operation of essential kitchen appliances, routine cleaning sessions eliminate the accumulation of filth and corrosion that may lead to costly breakdowns if left unchecked. Suppose restaurant owner cares about the health of their patrons and staff. In that case, they must regularly invest in commercial kitchen hood cleaning services to eliminate the fire and health dangers associated with grease buildup.
Exhaust Hood Cleaning Home
Having a professional service clean your exhaust hood is typically unnecessary in a home kitchen. A degreaser, scraper, and some soft cloths or paper towels may do wonders for a home's exhaust hood when used regularly by the homeowner. Frequent cleaning is still essential to keep the device running effectively and catch smoke and grease particles that may be released into the air while cooking.
If oil and grime build up around the filter to an unsafe level, a professional cleaning of the exhaust hood may be recommended. This is especially important for cleaning older models since dirt and dust may be trapped in hard-to-reach areas. Cleaning services have access to high-powered machineries, such as pressure washers and steamers, that can remove urine and filth from inaccessible spots. Hiring a professional service should be considered if a homeowner cannot properly maintain their exhaust hood.
Exhaust System
There are several potential causes of an ineffective commercial kitchen exhaust system. Grease, dirt, and other impurities accumulate in the filters and ducts, which is the most prevalent reason. Because of this, air cannot circulate as it should, and ventilation capacity may diminish, affecting the efficiency of the kitchen appliances. In addition, the volume of air moved by the exhaust fan may be insufficient to meet the kitchen's heating systems and culinary operations needs if the fan is not regularly serviced.
Inadequate ductwork design, improperly designed fan motors, inadequately sized grease filters, and lackadaisical maintenance procedures contribute to a subpar exhaust system. Air turbulence caused by improperly designed or fitted ductwork can drastically impair air delivery performance, and motors that aren't powerful enough may not be able to convey the required air volume throughout the kitchen. Last, inefficient particle capture might be caused by dirty grease filters or infrequent filter cleaning.
Frequently Asked Questions
How often should the hood be cleaned?
At least once every three months, you should clean the hood. Regular cleaning may be required during peak times or while cooking greasy meals like bacon or seafood. Regular replacement of grease filters is also recommended for optimal performance. A qualified technician should check the system annually and clean the out-of-reach parts.
What is the best way to clean a hood?
The best approach to clean a hood is to use a degreaser that has been recommended by the manufacturer and to follow their directions for use. Always use safety gear like gloves, a mask, and eye protection while working with caustic cleansers, and keep the hood and its surroundings free of flammable objects like paper towels and rags. Wait a few minutes after applying the cleanser before beginning to brush away the grime. After that, use hot water to clean the hood's interior and exterior thoroughly, and then wait until it is entirely dry to use it again.
How do you get thick grease out of a hood?
You should begin cleaning thick oil from a hood by scraping off as much grease as possible with a plastic tool. The next step is to apply a degreaser and then wait a few minutes for it to do its job. Then, wipe away any residual grease with a cloth or paper towel. Repeat the process with additional cleanser if the stain persists. A metal brush or steel wool may be used to eliminate stubborn stains. You can finish up by giving the hood a good rinsing with hot water and then turning it back on after it has dried.
How much does it cost to clean a hood system?
Cleaning commercial hoods is a pro's job, and the cost of this service typically depends on several factors such as the size of your hood system, its current status, as well as the services required. Contact us and we'll provide you with a fair estimate.
How often should a hood vent be cleaned?
Hood vents go through some rough days, so it's important to have them cleaned frequently. The National Fire Protection Association (NFPA) recommends that kitchen hoods and vents be cleaned at least once a year, but in most commercial scenarios, they should be cleaned more often.
Do range hood vents need to be cleaned?
Yes, range hood vents need to be cleaned regularly to ensure proper functionality and performance. They also need to be inspected for any signs of damage or faults so they can be repaired or replaced in a timely manner.
How do you clean commercial range hood grease?
Commercial range hoods need to be cleaned using specialized products and techniques. Cambridge Hood Cleaning uses specifically formulated cleaning agents, pressure washing, as well as specific tools and equipment to deep clean your commercial range hoods, removing all dirt and grease.