Kingston Kitchen Exhaust Hood Filters
A restaurant must have a properly functioning kitchen exhaust hood filter for everyone's well-being. A filthy or clogged filter reduces airflow in the kitchen, which can lead to dangerous amounts of smoke and grease buildup. As a result of the risks to patrons' health, it is imperative that eateries routinely inspect and replace their exhaust hood filters.
The filter can become clogged with grease, oil, and dust particles if it isn't replaced frequently enough, resulting in decreased airflow, worse kitchen air quality, and less efficient appliances like stoves and fryers. Another issue that arises when a clogged filter is ignored for too long is the increased risk of fire brought on by the accumulation of grease. As a result, restaurants must take extra precautions to ensure that the filters in their kitchen exhaust hoods are regularly cleaned and changed if they get clogged or saturated with grease.
Kingston Hood Cleaning offers a reliable and transparent kitchen exhaust hood filter maintenance service. Call us to learn about hood filter replacement, cleaning, and installation.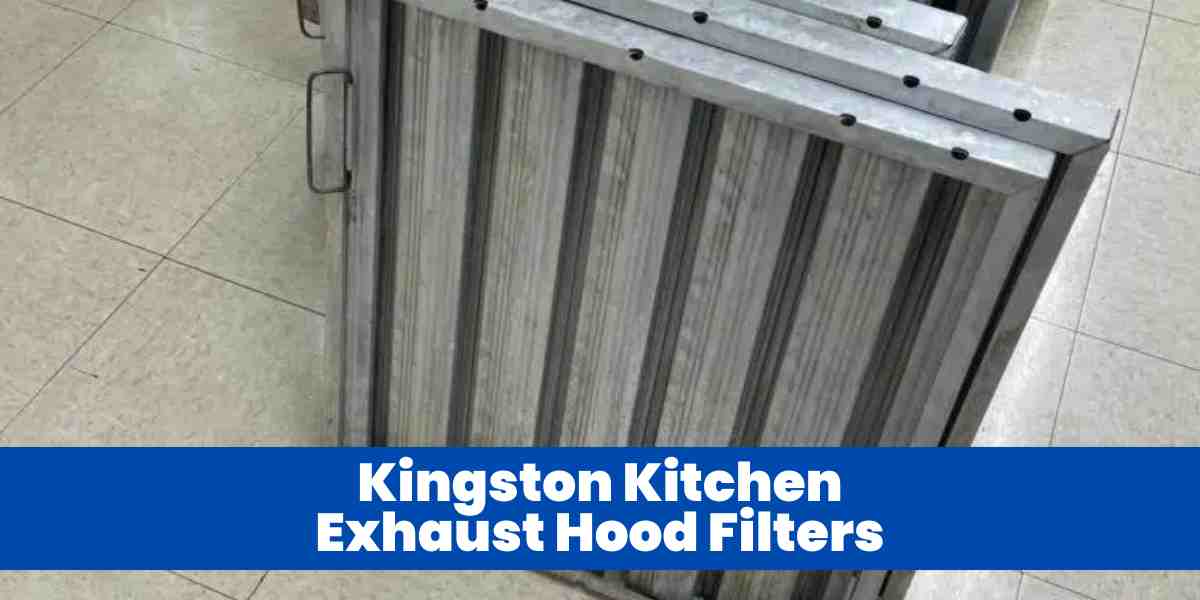 Kingston Hood Cleaning
Request a Estimate
Get your free written hood cleaning or kitchen
exhaust cleaning estimate today.
Tap to request estimate
Schedule A Hood Filter Cleaning in Kingston ON
The restaurant's patrons' and employees' safety and comfort depend on the filter in the kitchen exhaust hood are routinely changed. Filter replacement frequency should be at least every three months but might be more or less frequent depending on filter type and size.
Restaurants should also examine their filters regularly and replace them when they are clogged or saturated with grease. Maintaining good ventilation is important to prevent potentially harmful buildups of smoke and grease in the cooking area. Similarly, by doing routine maintenance, restaurants may save money on repairs and replacements.
Tap to Call Now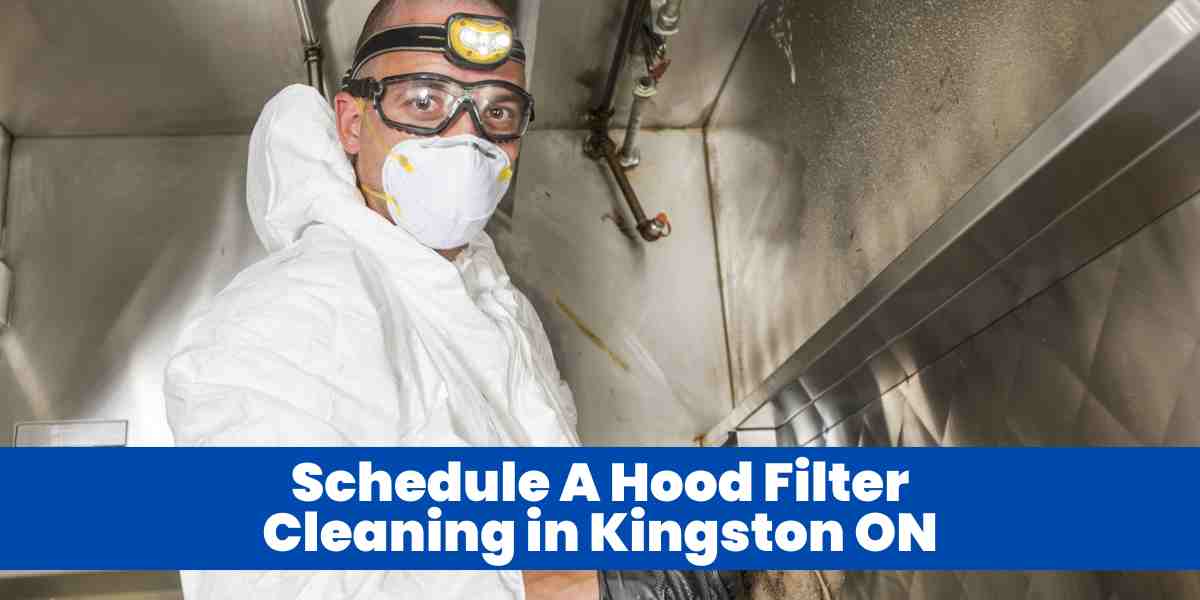 Hood Filter Replacement from Kingston Hood Cleaning
Kingston Hood Cleaning provides expert hood filter replacement services that help restaurants keep their kitchens safe and comfortable for customers and staff. Using industry-standard products, Kingston Hood Cleaning affords custom exhaust hood filter replacements for any size or type of restaurant. The team is knowledgeable about the specific requirements related to kitchen exhaust systems and can offer expert recommendations on when restaurant filters should be replaced.
Our services also include periodic inspections of the filter on your range hoods to ensure optimal performance and prompt replacement when needed. With Kingston Hood Cleaning's reliable service and high-quality products, restaurant kitchens remain safe and compliant with local regulations.
Request an Estimate [Tap Here]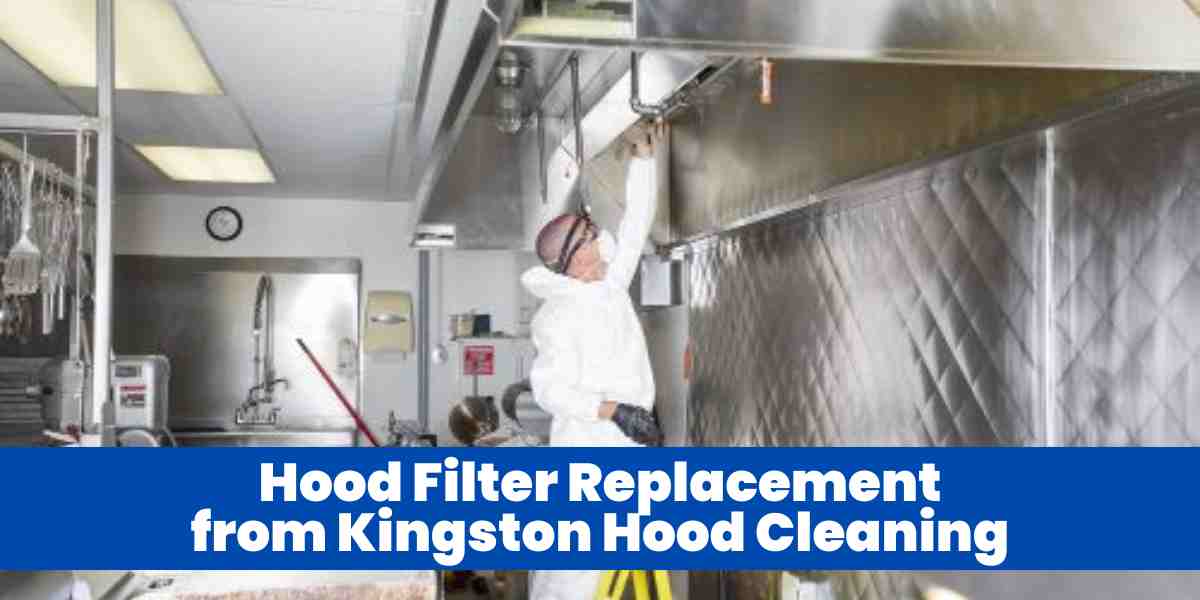 Hood Filters Service Kingston
Range hoods filter maintenance is an integral part of running a commercial kitchen. A hood filter keeps air circulating and reduces the accumulation of potentially harmful amounts of smoke and grease in the kitchen. However, if the filter is not maintained or routinely replaced, it can lead to expensive repairs or replacements.
Depending on the size and kind of filter being used, it is recommended that the filter be changed at least every three months. You should also check the filter frequently and replace it if it appears blocked or soaked in grease. In doing so, you will greatly contribute to maintaining a pleasant and secure environment in your kitchen.
Kingston Hood Cleaning offers your food service establishment a complete collection of exhaust hood filters if you need a replacement. We can also help you determine which type of filter you should use. Don't worry – everything will be transparent. We pride ourselves on honesty regarding hood filter cleaning, replacement, and installation.
Tap to Call Now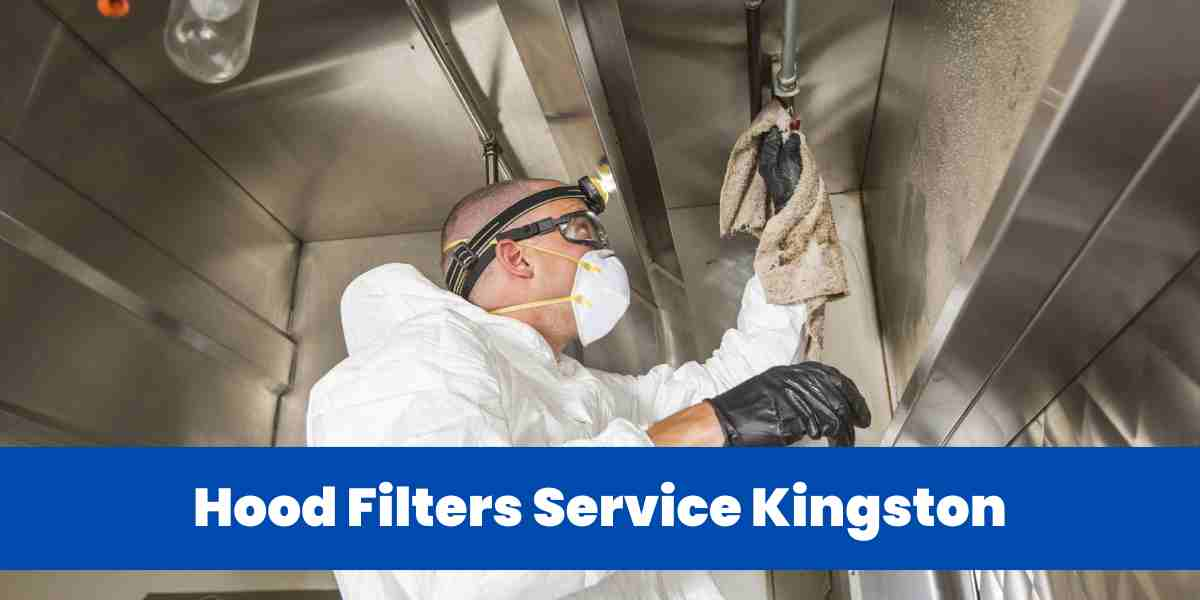 Cleaning Hood Filters in Kingston
Regarding replacing hood filters in restaurants, no one does it better than Kingston Hood Cleaning's devoted staff. They are familiar with the requirements of commercial cooking environments and can assist you to make sure your kitchen is running in accordance with all applicable codes and standards.
Kingston Hood Cleaning begins with evaluating the current filter to establish a replacement schedule for your range hoods. They'll look at the problem, make some recommendations, and then go to work installing a new product that's up to snuff as far as standards go. They'll regularly inspect the filters and change them as soon as they wear out. Their customers may be certain that their kitchen is being kept in accordance with current health and safety standards.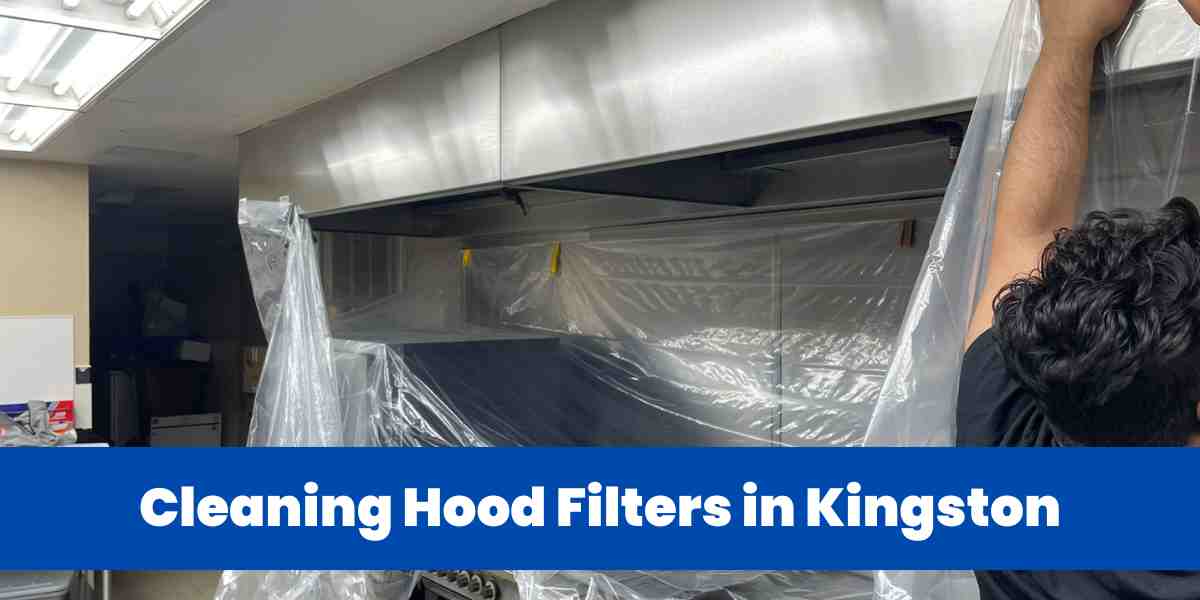 Request an Estimate [Tap Here]
Range Hood Filters
There are three types of filters built and designed for commercial kitchen range hoods:
Mesh Grease Filter: This type of filter is made with a combination of stainless steel mesh and aluminum, which works to capture grease particles, allowing clean air to be recirculated through the kitchen. The mesh filter is usually very effective in trapping grease particles and requires frequent cleaning or replacement.
Charcoal Filter: Also known as an activated charcoal filter, this filter uses carbon to absorb odours from the cooking process while trapping some airborne particles. The charcoal filter not only helps improve air quality but can also reduce odours in the kitchen.
Polyester Filter: This type of filter uses a combination of synthetic and natural fibres to capture airborne grease particles before they are expelled into the atmosphere outside the restaurant's walls. It's highly effective at trapping oil molecules and is easy to clean or replace when needed.
Kingston Hood Cleaning has all these three types available for your consumption. Call us today to determine which best suits your kitchen's specific requirements.
Tap to Call Now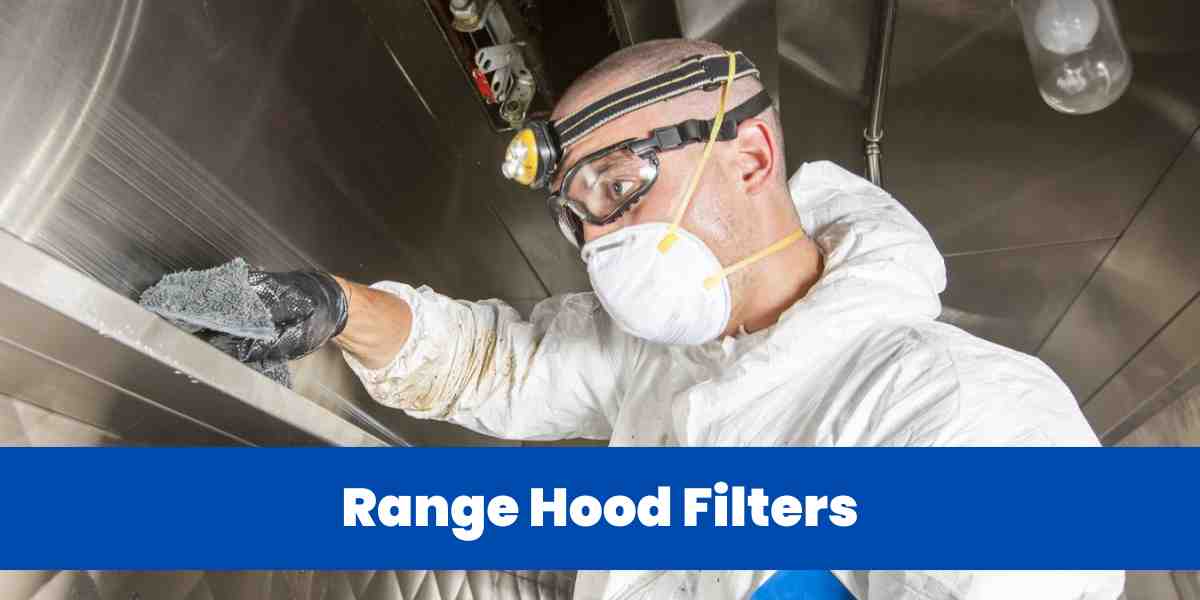 Charcoal Filters for Range Hood
Charcoal filters are the ideal solution for range hoods in commercial kitchens because they absorb odours and keep the air clean. These filters are made with activated charcoal, a material renowned for its odour-absorbing properties, making it perfect for environments like commercial kitchens, which can suffer from unpleasant smells from cooking. In addition, charcoal filters also act as a barrier to trap airborne grease particles before they are expelled into the atmosphere outside.
Charcoal filters are also particularly easy to maintain, often only requiring monthly replacement or cleaning. This makes them more cost-effective than other filter types over time while still providing excellent air filtration and odour control. Finally, these filters come in various sizes, shapes and styles, so they're sure to fit any range hood perfectly while offering superior protection against grease buildup and bad odours.
Request an Estimate [Tap Here]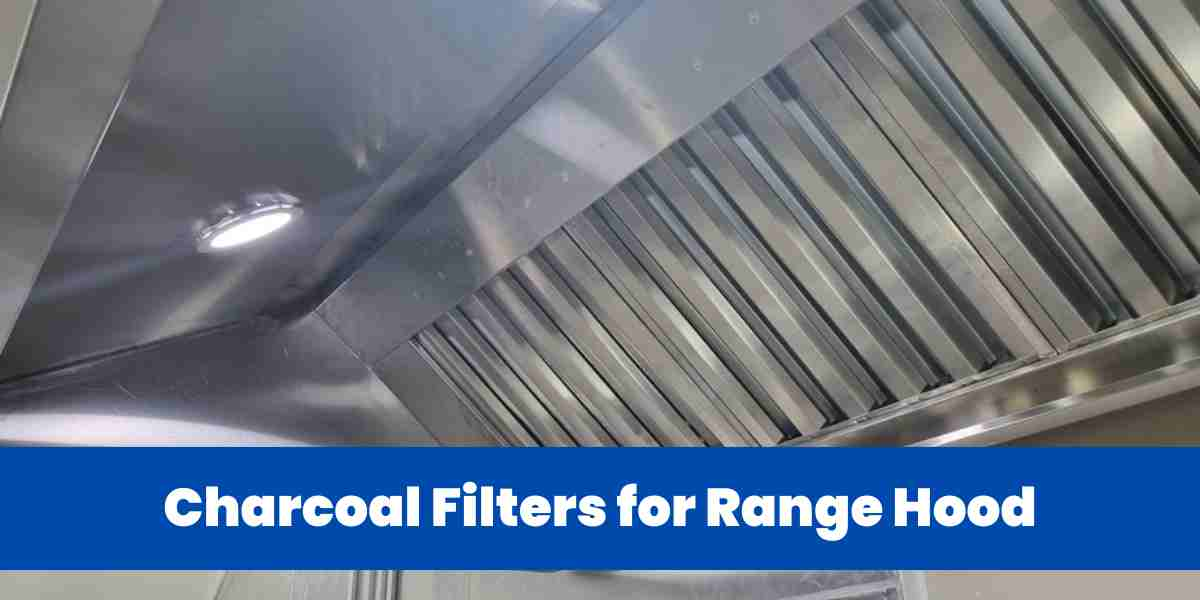 Replace Hood Filters Kingston
There are three warnings that a filter in commercial kitchen range hoods needs to be replaced quickly:
If you see a buildup of grease on your filters, it is likely time to change them since they are no longer functioning as intended and are letting airborne particles pass through.
The intensity of odours is a possible indicator of a clogged filter that needs to be replaced if cooking odours seem more pervasive than normal.
If you find that the airflow in your kitchen is less than usual, it may be because of a blocked filter that prevents air from circulating freely through your range hood.
If any signs present themselves, go ahead and contact Kingston Hood Cleaning to address the issue immediately.
Tap to Call Now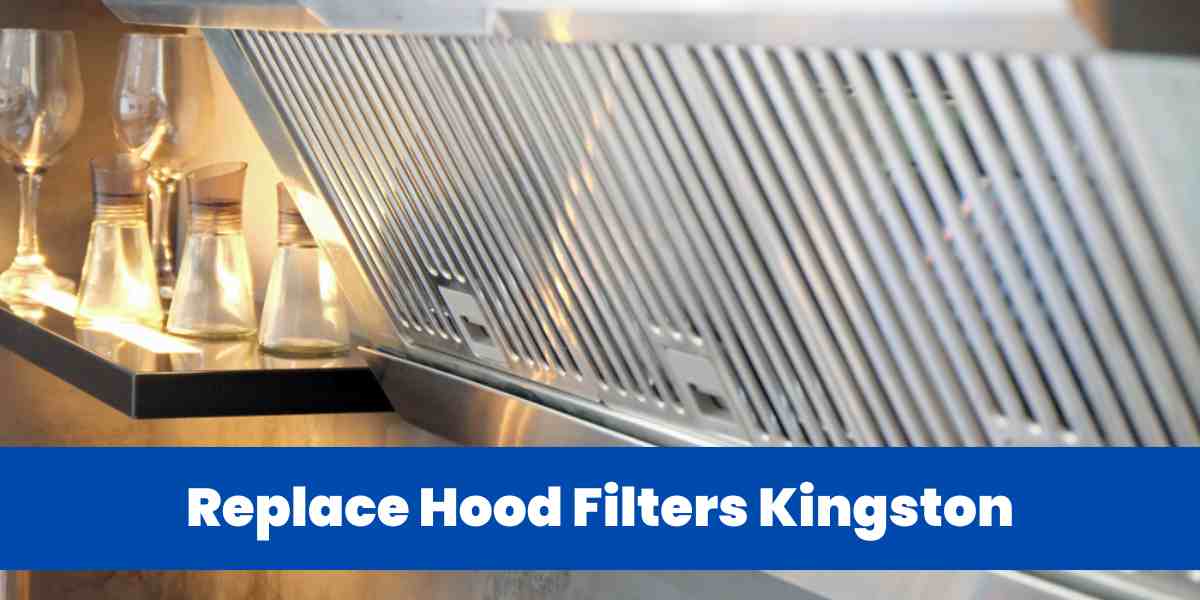 Frequently Asked Questions
Which filter is best for the kitchen hoods?
Charcoal filters are highly recommended for use in kitchen hoods. Activated charcoal, the main ingredient in charcoal filters, is known for its ability to absorb odours, making it ideal for use in smelly situations like industrial kitchens. Charcoal filters also serve as a barrier, preventing grease particles in the air from being released into the outer environment. Charcoal filters are excellent at preventing grease accumulation. They are also simple to clean and come in various sizes, shapes, and designs, making them suitable for use with virtually any kitchen hood.
How often should you change vent hood filters?
Filters can last a little longer if the hood is used frequently and the filters are cleaned frequently, but they will still get clogged more quickly and need to be replaced sooner. Once every three months is about right. Keep your kitchen's air quality high and prevent grease and other particles from escaping into the atmosphere by replacing the filter in your kitchen vent hood.
Can range hood filters be washed?
Aluminum mesh filters should be washed by hand since the dishwasher can eventually erode them. Ensure the filter has been cleaned of all grease and filth before reinstalling it in the range hood. You should also get new filters whenever the old ones are blocked or show symptoms of degradation like deep scratches or rust.
How much does it cost to clean a hood system?
Cleaning commercial hoods is a pro's job, and the cost of this service typically depends on several factors such as the size of your hood system, its current status, as well as the services required. Contact us and we'll provide you with a fair estimate.
How often should a hood vent be cleaned?
Hood vents go through some rough days, so it's important to have them cleaned frequently. The National Fire Protection Association (NFPA) recommends that kitchen hoods and vents be cleaned at least once a year, but in most commercial scenarios, they should be cleaned more often.
Do range hood vents need to be cleaned?
Yes, range hood vents need to be cleaned regularly to ensure proper functionality and performance. They also need to be inspected for any signs of damage or faults so they can be repaired or replaced in a timely manner.
How do you clean commercial range hood grease?
Commercial range hoods need to be cleaned using specialized products and techniques. Cambridge Hood Cleaning uses specifically formulated cleaning agents, pressure washing, as well as specific tools and equipment to deep clean your commercial range hoods, removing all dirt and grease.